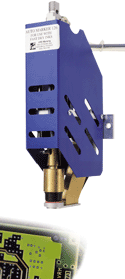 The Auto Marker is a self-capping, automatic stamping system that now makes it possible to use fast drying inks in an automated process. Now you can mark all your non-porous surfaces with fast drying inks and not worry about premature dryout of the marking head. The self-capping mechanism seals the fast dry marking head in between each stamping. With this self-capping power, you can mark high or low volumes over long periods of time without dryout. In addition, the spring-loaded marking head senses marking pressure before returning to its capped position. This allows for a clean, neat mark on many thicknesses of material with no vertical adjustment.

The inks used in the Auto Marker are permanent and perfect for marking Quality Control/Quality Assurance, Pass/Fail, and Test symbols on surfaces such as Printed Circuit Boards, Plastic, Metal, Automotive Assemblies, and Mylar. The fast dry marking head can be customized to reflect any shape, symbol, or letter/number configuration you desire. This feature allows for direct employee accountability even while using automatic marking.

The Auto Marker can be used in the vertical, horizontal, or upside down position. In addition, it can be used as a stand-alone unit. Or, incorporated into your existing production line.
Pressure Sensitive Return
The spring loaded, "kiss touch" pressure sensitive marking head automatically returns to the home position after the mark is applied. No need for vertical adjustments.
Self Capping
Seals in the fast dry marking head so premature dryout does not occur. This allows for long production cycles without reinking or dryout.
Artwork Samples 116


Artwork Samples 126

Choose from the above samples or customize your own.